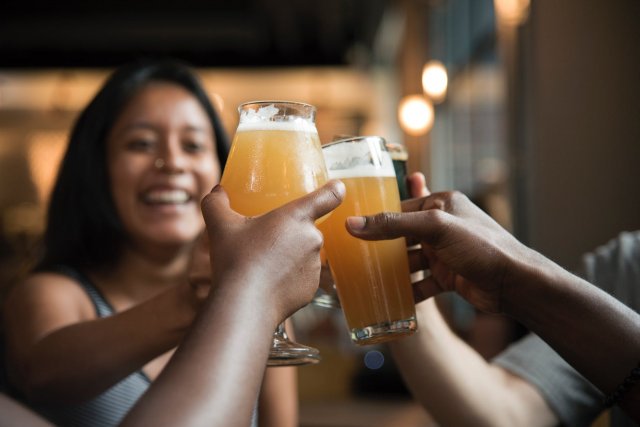 It's year-end wrap-up time.
And Untappd's Greg Avola, one of the founders of the popular mobile app that allows users to rate and review beer, has been posting a series of 2020 year-end wrap-ups which we've been covering that are always kind of fun.
And as part of that series, Avola recently posted Untappd's Top 10 Most Checked-In Beers around the globe.
And before you freak out over some of the names that made this list, keep in mind that ranking is not about which beers its users consider the best…But rather beers that were simply most often checked in 2020.
And, as with all of Avola's recent year-end wrapups…these beers benefit from being widely distributed around the world…
Untappd's Top 10 Beers – 2020
10) Sierra Nevada Hazy Little Thing – Sierra Nevada Brewing (Chico, CA/ Mills River, NC)
9) Stella Artois – Anheuser-Busch InBev (Leuven, Belgium)
8) Miller Lite – Molson Coors Beverage Co. (Chicago, IL)
7) Tripel Karmellet – Brouwerij Bosteelsop (Buggenhout, Belgium)
6) BrewDog Elvis Juice – BrewDog (Ellon, Scotland)
5) Heineken Lager – Heineken NV (Amsterdam, Netherlands)
4) Lagunitas IPA – Heineken NV (Amsterdam, Netherlands)
3) Corona Extra – Grupo Modelo (owned by Anheuser-Busch InBev)
2) BrewDog Punk IPA – BrewDog (Ellon, Scotland)
1) Guinness Draught – Guinness & Co. Dublin, Ireland (now owned by Diageo)
###
Our take on Untappd's Top 10 Beer ranking…
Distribution Rules!
All of these beers are widely available throughout the world. And clearly accessibility matters more than any other factor and big corporate brewers dominate distribution.
Belgium Brews Are More Popular Around the World Than We Thought
Outside the top 10 in 2019, we were very surprised to see Tripel Karmeliet by Belgium's Brouwerij Bosteels enter this year's ranking at #7. Owned by the Bosttels family for more than 200 years, Tripel Karmeliet is still brewed to an authentic beer recipe from 1679 which originated in a former Carmelite monastery.
BrewDog Has Reach
In spite of whether you consider the now global BrewDog, a true craft brewery or not, they certainly have fans as well as reach. BrewDog was the only brewery to have two of their beers on the top 10 list for 2020.
BrewDog also has a very effective online sales platform which likely benefitted from the international lockdowns brought on by COVID-19.
###
Want more Untappd 2020 Year in Review rankings?