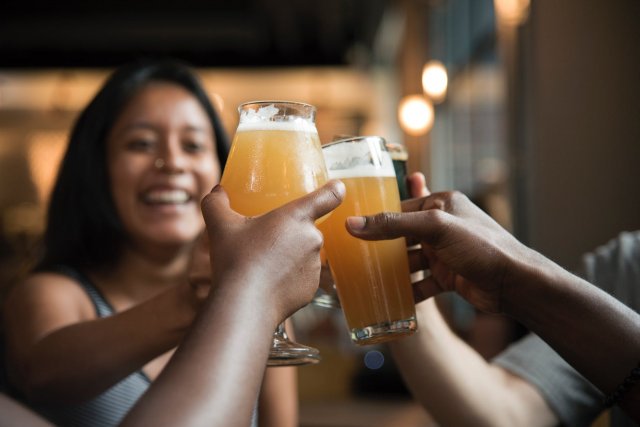 Yelp, a crowd-sourced review site, has tapped into its extensive database of more than 244.4 million reviews and come up with the best US craft breweries by state. And even though these kinds of rankings tend to be borderline clickbait conceived to draw visitors to their platforms, doesn't mean they aren't fun.
This list's methodology used couldn't be more basic…
Yelp looked at its database of US craft breweries using the Brewers Association's definition, brewers that are small (an annual production of 6 million barrels of beer or less) and independent (Less than 25 percent of the craft brewery is owned by a beverage alcohol industry member that is not itself a craft brewer).
Craft breweries that were purchased by beer majors like Anheuser-Busch or Molson Coors didn't make this list. Sorry Goose Island. See yah Terrapin Beer.
So how valid is this ranking? Truthfully, who the hell knows?
Recent research suggests that reviews found on social networks and review sites like Yelp may not be as reliable as people think. According to this study, roughly 20% of restaurant reviews (positive and negative) are fake, so there's that.
Plus the breweries that have been around longer have the advantage of possibly having more Yelp reviews. That doesn't mean they're not decent, but a brewery's tenure can be a factor.
And now (drum roll please)…
Yelp's Top US Craft Brewery by State
Alabama (Birmingham) – Good People Brewing
Alaska (Juneau) – Devil's Club Brewing
Arizona (Phoenix) – Front Pourch Brewing
Arkansas (Eureka Springs) – Gotahold Brewing
California (San Diego) – Home Brewing
Colorado (Breckenridge) – Broken Compass Brewing
Connecticut (Salem) – Fox Farm Brewery
Delaware (Milton) – Dogfish Head Craft Brewery
Florida (Islamorada) – Florida Keys Brewing
Georgia (Roswell) – Variant Brewing
Hawaii (Honolulu) – Stewbum & Stonewall Brewing Co.
Idaho (Coeur D'alene) – Daft Badger Brewing
Illinois (Chicago) – Begyle Brewing
Indiana (Indianapolis) – Guggman Haus Brewing Co
Iowa (Dubuque) – Jubeck New World Brewing
Kansas (Wichita) – Central Standard Brewing
Kentucky (Lexington) – West Sixth Brewing
Louisiana (New Orleans) – Bywater Brew Pub
Maine (Portland) – Allagash Brewing Company
Maryland (Hyattsville) – Streetcar 82 Brewing
Massachusetts (Boston) – Samuel Adams Brewery
Michigan (Marquette) – Ore Dock Brewing Company
Minnesota (Moorhead) – Junkyard Brewing Company
Mississippi (Natchez) – Natchez Brewing Company
Missouri (Kansas City) – Rochester Brewing and Roasting Company
Montana (Whitefish) – Bonsai Brewing Project
Nebraska (North Platte) – Pals Brewing
Nevada (Reno) – IMBĪB Custom Brews
New Hampshire (Littleton) – Schilling Beer
New Jersey (Merchantville) – Eclipse Brewing
New Mexico (Truth or Consequences) – Truth or Consequences Brewing
New York (Brooklyn) – TALEA Beer
North Carolina (Fairview) – Whistle Hop Brewing Company
North Dakota (Fargo) – Drekker Brewing Company
Ohio (Cleveland) – Noble Beast Brewing
Oklahoma (Oklahoma City) – Stonecloud Brewing Company
Oregon (Bend) – Boneyard Beer
Pennsylvania (Braddock) – Brew Gentlemen
Rhode Island (Pawtucket) – Crooked Current Brewery
South Carolina (Johns Island) – Low Tide Brewing
South Dakota (Sioux Falls) – Remedy Brewing
Tennessee (Nashville) – Southern Grist Brewing
Texas (San Antonio) – Ranger Creek Brewing & Distilling
Utah (Salt Lake City) – Kiitos Brewing
Vermont (Stowe) – The Alchemist
Virginia (Stafford) – Barley Naked Brewing Company
Washington, D.C. – Other Half Brewing DC
Washington (Seattle) – Georgetown Brewing Company
West Virginia (Bruceton Mills) – Screech Owl Brewing
Wisconsin (Milwaukee) – Vennture Brew
Wyoming (Ten Sleep) – Ten Sleep Brewing Company
###
All breweries were marked open on Yelp as of April 21, 2022. When available, all businesses on this list have a passing health score as of April 21, 2022.