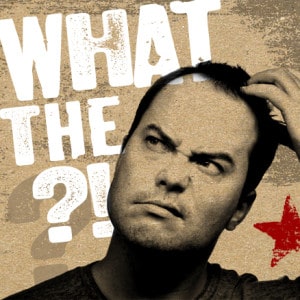 You might get the impression that we, the beer gurus of ACB, understand all there is to know about beer, yet we're still learning just like you. It's this thirst for knowledge that drives us to dig deeper into the stories behind the beer we drink. It's our goal to protect you from the embarrassment of not knowing exactly what it is you've decided to put in your mouth or even worse, what you stick in someone else's…
So welcome to the latest in our ongoing series (drum roll please…) "What the Hell is a Winter Warmer?"
The Basics:
No one's ever accused us of being brilliant and we're not gonna try to break that streak today, but to put it quite simply, the term Winter Warmer is a generic label used to describe many winter seasonals. We prefer lighter fare that cools us down in the summertime, so it's conversely clear that these brews have been created to keep us warm during those cold days when we're kept inside. Historically, there are really two foundations brewers will start with that both fall under this variety: either the spiced Wassail or the Strong English Ale.
As far as we can tell, the central difference between the two is the choice of spicing. The Wassail features classic, old school flavoring via nutmeg, allspice, cloves, and other cooking spices; the Strong Ale focuses on a more modern spicing agent–hops. Even with these supposedly defining characteristics, brewers are gonna do what they do best and keep us guessing.
It's a bit pointless to try to find an origination story for these brews because they're as old as Moses. Sometimes they're called Christmas or Winter Ales, sometimes they're barrel-aged, and many times they feature added sugars such as maple syrup, molasses, plums, raisins, and more. These beers are often served on their own as a treat unto themselves, though
many can be a great companion to commonly roasted holiday meats such as turkey, ham, or roast beef, or even your spiced pumpkin or apple pies. The ABV can vary from 5.5% to 8.5% and the style is available as early as September, though it will generally be on shelves until early January when the madness of the holidays abates, requiring less booze to survive.
Winter Warmers We Like and You Might Want to Try:
Odell Brewing Company, Isolation Ale (Fort Collins, CO) – Trending more toward the Strong English Ale, Odell's winter offering is an easy drinker and lighter fare for the style. Featuring more caramel malt than other Warmers, Isolation Ale may not be a stereotype of the style, but that's why we like it and it sure is delicious. 6.1% ABV – Available November and December.
Deschutes Brewery, Jubelale (Bend, OR) – Considered to be the modern archetype for the Winter Warmer in America, Jubelale has been brewed since 1988 and balances chicory and various sweet fruits with a bigger hop finish than normally found in the style. If you enjoy reveling in big beers, be sure to get this one while you can. 6.7% ABV – Available September-December.
Shipyard Brewing Company, Prelude Special Ale (Portland, ME) – One of New England's best in the winter, Prelude exudes flavors of butterscotch and chocolate with hints of fruit and a bigger hop profile featuring Cascade and traditional English hops. It's got a little of everything to round out the Strong English Ale archetype. 6.7% ABV – Available November and December.
Our Take:
At ACB, we're all about variety and this is a style that gives you just that. Not only are these brews a phenomenal counterbalance to 8 or 10 months of hugely hopped beers, but this is also a style that has so much to offer within its description that it can be difficult to truly define exactly what a Winter Warmer is or can be. There's no better beer to enjoy with family during the holidays and we'd have it no other way.