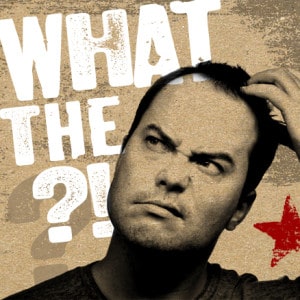 You might get the impression that we, the beer gurus at American Craft Beer, understand all there is to know about beer, yet we're still learning, just like anybody else.
And it's this thirst for knowledge that drives us to dig deeper into the stories behind the beers we drink, thus protecting you from the embarrassment of not knowing what exactly it is you've decided to pour in your mouth.
So welcome to the latest in our ongoing series (drum roll please…) "What the Hell Is a Russian Imperial Stout?"
The Basics
Origination stories for beer styles can often times be convoluted, so naturally the conception of the Russian Imperial Stout is just as complicated, if not more so.
The link between the stout and Russia begins with a well-documented visit to England by Peter the Great in 1698, where he "fell in love with stout beers," with the stout name describing only its strength, not its color.
But, of course, Peter the Great's link to the RIS is disputed and the correlation often overlooked in many histories, though many Russian Imperial Stouts today bear his name.
In the early 18th century, the English had struck brewing gold in experimenting with darker ale styles – with the first porter appearing around 1721, then the Stout or Stout Porter not long after. The Anchor Brewery of London (under the ownership of Henry Thrale) appears to have first shipped strong ales to the Balkan states and even the Imperial court in Russia.
The first shipment of strong porter to Russia is claimed to have not survived the ~1,500 mile voyage, yet their second attempt – sporting a much higher alcohol and bitterness, found success and quickly became popular in European Russia.
One such fan of the style was Empress Catherine the Great (1729-1796), who started receiving shipments via
Barclay Perkins Anchor Brewery after 1781, known then as an Entire (the original name for a matured, strong stout). Again, this would all be less complicated if not based on various accounts, but it all adds to the lore of the style.
Today, the bulk of Russian Imperial Stouts are produced in the United States, with the term "Imperial" becoming synonymous with a double or stronger version of most any given style (Imperial IPA, Imperial Stout, Imperial Porter, etc.) The BJCP definition accounts for a dark, higher alcohol (7 to 12%), generally hoppier stout (50 to 90 IBU), conveying flavors of dark chocolate, fruit esters, coffee, dark fruits and offering a chewy, velvety and luscious mouthfeel.
Many within the style can come off as "hot" or overly boozy within 6 months of packaging, so brewers often recommend cellaring for at least that long to make for a mellower tasting.
Russian Imperial Stouts We Like That You Should Try
The Czar, Avery Brewing (Boulder, CO) – One of Avery's most popul
ar offerings, though also a member of their recently retired Dictator Series, you might still be able to find this 10.1% abv beast on shelves, but you'll have to find it fast.
Dark Lord, Three Floyds Brewing (Munster, IN) – One of the first beers in a America to have it's own release day party (the last Saturday in April – the only time it's sold), it weighs in at 15%, sports many special variants and is consistently rated one of the best beers in the world.
Darkness, Surly Brewing (Minneapolis, MN) – Another regional "must have" RIS with it's own "Darkness Day" release, this beast has been lurking since 2007 with its latest incarnation weighing in at 12%, 85 IBU and overtones of chocolate, raspberry and cherry.
Marshal Zhukov's, Cigar City Brewing (Tampa, FL) – Dedicated to the renown General Georgy Zhukov of World War II fame, this is the base upon which their prized Hunahpu's Imperial is built upon. It featuring flavors of espresso, dark chocolate, toffee and black strap molasses. 11.5%, 60 IBU
Old Rasputin, North Coast Brewing (Fort Bragg, CA) – First brewed in 1994, then bottled in 1996, this 3 time GABF medal winner is considered by many to be an archetype of the style and the basis upon which many RIS styles are brewed in the US today.
Parabola, Firestone Walker Brewing (Paso Robles, CA) – Receiving a 100 score with 1,180 reviews on Beer Advocate, Parabola is big time at 13.1% and 79 IBU. It's aged for a full year in a blend of bourbon barrels from Elijah Craig, Four Roses, Pappy Van Winkle, Woodford Reserve and Buffalo Trace.
Ten Fidy, Oskar Blues Brewery (Longmont, CO; Brevard, NC; Austin, TX) – One of the only widely available RIS' in cans, Ten Fidy is a bit lighter (10.5%, 65 IBU) making it an ideal base for the over 20 variants they've created, including their highly sought after Bourbon barrel aged version.
Our Take
In today's competitive craft beer market, it only makes sense that many brewers are focusing on this delightfully complex, flavorful, cellar worthy style. Along with lambic, sour, and other barrel-aged small batch brews, the RIS is on a short list of the most desirable bottles that beer nerds are "In Search Of" (ISO) for cellaring. If high alcohol and dark malts are your thing, you can't go wrong with this style, especially in the winter months.